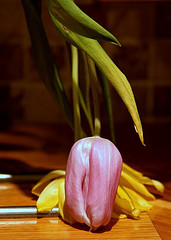 Twenty-year-old Amsterdam resident Noa Jansma was so fed up with getting catcalled by men on the street she decided to take selfies with the men who catcalled her in the background to show that it does happen. Even though a lot of people know this happens, a big chunk of the population isn't subjected to this type of harassement, so some people still think it's not a problem. One of the men in the pictures followed her and harassed for 10 minutes – let that sink in.
Jansma says she had no clue how to react to this behaviour. If she yells back, they get aggressive and if she does nothing, she feels as if they could do anything they wanted to her and get away with it. I know exactly how she feels and it's a horrible feeling. And being harassed is not a compliment."It's clear that if a man on the street says they want to fuck me that it's not a complement", says Jansma.
Although she'll stop soon enough because it's taking a toll, have a look at Dearcatcallers to see all the morons. And the worst is they all agreed to be in a picture with her – they think this is normal behaviour. The pictures were taken in Barcelona and in Amsterdam. Same mierda, different ciudad.
(Link: parool.nl, Photo of wilted tulip by Graham Keen, some rights reserved)