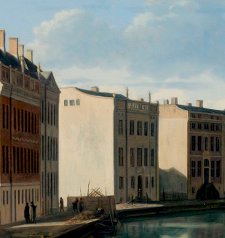 Amsterdam's famous canal ring turned 400 this year and as part of the celebrations an art exhibit is being held in 15 historical canal houses.
The houses include the mayor's residence just past the Golden Bend. The artists were selected by curator Siebe Tettero because they had some connection with Amsterdam. They include current darlings of the Dutch art scene Joep van Lieshout and Viviane Sassen.
The exhibit—called Chambres des Canaux—started this week and will run until 17 November except on Mondays. You can buy a ticket for 14 euro at the tourists offices which will give you access to all the venues.
Getting access to the former homes of rich traders sounds like a pretty unique in itself. Should you not be able to make it before 17 November, there is always the Museum Willet-Holthuysen on the Herengracht, which is the home of 19th century art collector Abraham Willet and which has been preserved in the style of its last residents.
(Link: I Amsterdam. Illustration: Gerrit Adriaensz Berckheyde, public domain)
Tags: Amsterdam, canals, Joep van Lieshout, Vivianne Sassen