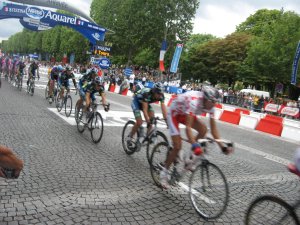 Designed by former bicycle repairman Bill Rombouts from Heerlen, Limburg, the Bi-Bell is a water bottle with a built-in bell (eight-second video) aimed mainly at amateur racing cyclists. It took him three years to launch and it's now available for 12,95 euro.
Dutch cycling law and etiquette requires bikes to have bells so they can warn fellow road users. However, many amateur racing cyclists can't be bothered with bells on their bikes because real racing cyclists don't have one. Then again, real cyclists have a race completely secured just for them, which is not the case for normal cyclists.
Racing cyclist enthusiasts go faster than most and cannot warn people properly that they are coming, making them 'less sociable and less safe', according to Rombouts. By putting a bell in a water bottle, a cyclist just has to extend their arm and ring their bell. Amateurs can now still look cool. After all even retired top racing cyclist Joop Zoetemelk has a Bi-Bell now.
(Link: www.deondernemer.nl)
Tags: bell, bikes, cycling, Heerlen, Joop Zoetemelk, Limburg, water bottle