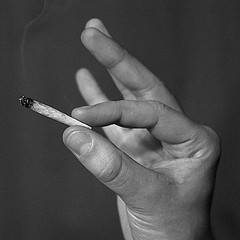 Last Wednesday a court in The Hague ordered the Dutch government to pay owners of marijuana bars (called coffeeshops in the Netherlands) the damages caused by the introduction of the so-called 'weed pass', NRC writes.
Last year the government introduced the requirement for coffeeshop patrons to register in order to make it impossible for foreign customers to purchase marijuana. The requirement was dropped later that year, but by that time coffeeshops in the provinces of Limburg, Noord-Brabant and Zeeland had already seen a decline in income as local customers also stayed away.
Coffeeshop customers are still required to prove residency. The court felt the extra requirement of obtaining a weed pass was a "disproportionately large infringement of the interest of coffeeshop patrons."
Justice Minister Ivo Opstelten has announced that he will appeal the verdict.
(Photo by Torben Bjørn Hansen, some rights reserved. Link: The Amsterdam Herald.)