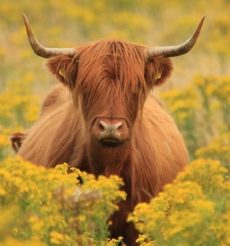 Nature and wildlife photographer Rob Rokven from Oisterwijk, Noord-Brabant snapped a great picture of a Highland cow that will be featured in the 2019 National Geographic tear-off calendar. A picture was taken at the estate of Huis ter Heide, near Tilburg.
Rokven explains that there was a calf right behind the mother in the picture, and that right after he took it, an upset father Highland cow was heading towards him, which is when he ran off.
As a big wildlife fan, he sent in his picture to National Geographic and found out last week that his photo was chosen. And it will be the second time, since in 2018, he had a deer that made it into the 2018 calendar, a photo taken at the same place.
(Link and photo: Omroepbrabant.nl)