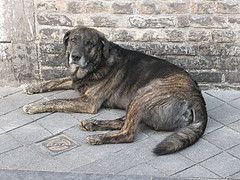 This week on King's Day in Zoetemeer, South Holland, a lamppost came crashing down on a woman while she was cycling by with her young daughters, giving her a concussion. The kids were a bit shocked to see mum bleeding from her head, as the event was as unexpected as could be. Passers-by called the emergency services and all is well.
The lamppost was fastened onto cement tiles by a metal plate with screws, but came crashing down because its base had been eroded by dog urine.
I hope the kids aren't too scared of cycling anymore and yes, the lamppost could have done even more damage to the children. The question is why did that lamppost give way and could others do the same? We'll keep you 'lampposted'.
(Link: www.omroepwest.nl)