Spend the night in a rescue pod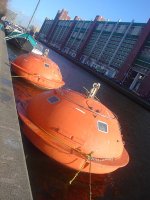 Denis Oudendijk, who makes art out of garbage, will let you stay at his Capsulehotel which consists of a number of discarded 1972 rescue pods. You will be a live work of art! A night in the luxury capsule, dubbed Bond Meets Barbarella, will set you back 150 euro, and contains amongst others two sheep skins, a martini bar and a DVD player with all Bond movies. Students get a hefty discount.
Oudendijk sees this project as a way to let people get to know his world.
(Via: :)= Esc.)
1 Comment »
[…] in a rescue vessel equipped with a Martini bar, sheep skin rugs and a DVD player, you should contact a different artist. These icons link to social bookmarking sites where readers can share and discover new web […]

Pingback by 24 oranges » Roughing it in a life raft, for an hour — September 25, 2010 @ 1:43 pm