The Netherlands boast the cheapest Big Mac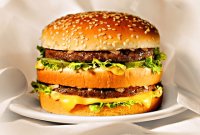 The Dutch sell the cheapest Big Mac at 2,95 euro. In Belgium it costs 3,40 euro, in Denmark 3,72 euro, and in Germany 2,99 euro. It is the first time since the Big Mac Index was started in 2002 that The Netherlands is the cheapest Big Mac country of Western Europe.
As a comparison, Switzerland is the most expensive at 3,91 euro, while the Ukraine is the cheapest at 1,32 euro (not part of Western Europe according to the index).
(All these food postings!)
(Link)
1 Comment »