Dutch Queen's Day in London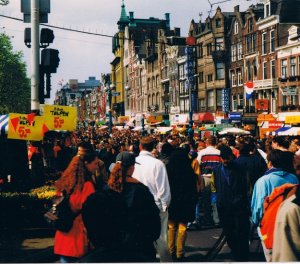 A house party will be given by the Dutch Tourism Board in London on the shore of the Thames in London for some 12,000 visitors on Saturday, 29 April. The Holland House Event will last the entire day and is suitable for young and old. Dutch drinks and finger food will be served and there will be performances by Dutch bands. For the younger visitors, there will be a meet and greet with Nijntje (known as Miffy in English).
Queen's Day (Koninginnedag) is officially celebrated on April 30 and marks the birthday of the late Queen Juliana.
On another note, more and more tourists are getting wind of this relatively low key holiday because of the freemarkets in every city and town. This photo of Amsterdam's Damrak was taken by Orangemaster in 1996 when (see left) the guilder was still in use.
(Link)
No Comments »
No comments yet.