"A good writer is the best thief"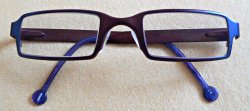 Christian daily Trouw (translates to 'loyal') has an interview with Flemish writer Tom Lanoye where they have him respond to the ten commandments. About "thou shalt not steal" he says:
In my profession theft is a tribute. A good writer is the best thief. A bad writer steals from the wrong people, or not at all. A bad writer thinks he knows it all already. You have to keep rolling around in all sorts of literary beds. Carnivorous, omnivorous, vegetarian, anything! Everything can be an inspiration.
(Link: interview in Dutch. Via Eamelje, Dutch. Photo by Frank C. Müller, licensed under Creative Commons Attribution ShareAlike 2.0 Germany.)
No Comments »
No comments yet.