Dutch 70s hit music show revived on the web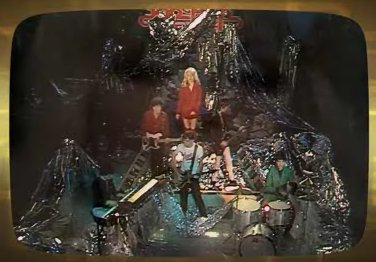 Illustration: Blondie on a tin foil mointain on TopPop
The biggest pop music TV show in the Netherlands during the 1970s and the early 1980s was TopPop. This was the time when artists still had to show up in shows all over the world to have their faces remembered. Then video clips came along, and a competing channel brought Adam Curry back to the country to ride their wave. His show Countdown was the end of TopPop.
TopPop had several things going for it, not in the least its host Ad Visser, a slightly goofy looking guy who was into tantric sex and writing space operas. Artists would lip-sync against psychedelic backdrops, and if they were unable to come on the program, the show ballet of Penny de Jager would dance to a pop song. There was something oddly discomfitting about the show that was at the same time its biggest asset.
Clips of the show can of course be found on Youtube, but a few weeks ago an official archive was launched, which publishes themed compilations of performances. Think Blondie, Duran Duran, Randy Crawford, The Jacksons, The Carpenters, Grace Jones, Nina Hagen, and TopPop's ballet dancing to the theme of Star Wars.