Back in 2007 we mentioned Showballet Penney de Jager dancing to Meco's disco version of the theme of Star Wars on 1970's Dutch TV show Toppop. This is that video.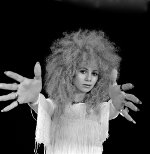 In the 1970s bands would playback live—if that description makes sense—to their pop songs on television. Sometimes an artist would not or could not show up and Toppop solved this by having its in-house troupe, Showballet Penney de Jager, do a bit. As for why this pre-recorded routine contains cowboys and motorcycle riders, I don't know.
In the mid-1980s Toppop was pushed out of the fish tank by Adam Curry's Countdown which focussed on showing music clips instead of live acts. The ballet's front lady De Jager, now 65, still performs. Her current troupe Burlesque Express is part of the travelling theater festival De Parade at the moment. The festival has set up its tents in Utrecht and will leave for its final stop this year, Amsterdam, in the week of 5 August.
See also: Dutch 70s hit music show revived on the web
(Link: Boingboing. Photo of Penney de Jager in 1970 by AVRO, some rights reserved)