Dutch national anthem's 75th birthday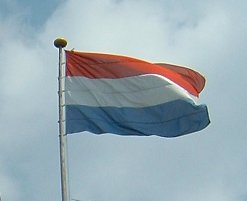 May 10 was the 75th birthday of "The William" (het Wilhelmus in Dutch) as the Dutch national anthem. Queen Wilhelmina ordained on May 10, 1932 that from that day on, the more popular song should replace the slightly xenophobic "Wien Neerlands Bloed" ("If Dutch blood flows through your veins / Free from foreign stains"), which had served as the first national anthem since 1815. Ironically, the latter song was expressly created to counter The William, which was considered a pro-protestant song, and therefore offensive to Roman Catholics.
That Queen Wilhelmina would pick a song with almost the same name as hers is no coincidence; she is a direct descendant of the William in the song. The William is the oldest national anthem in existence, as it was written in the 16th century. The lyrics of the Japanese national anthem are much older, but as a song it has 'only' existed since the 19th century.
Wikipedia has a very good article about The William.
(Via Geen Commentaar (Dutch). Photo by Quistnix, licensed under Creative Commons Attribution 1.0.)