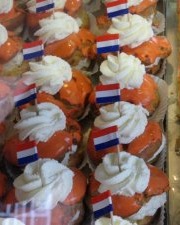 Greg Shapiro, an American-Dutch comedian and actor, has just published his new book How To Be Orange, which I had the chance of perusing one morning before we both went on the air on Amsterdam's English Breakfast radio. I laughed everywhere I opened it as an immigrant with 14 years on my Dutch clock because I could relate to it and it is well written. Some of you locals may recognise the book's illustrations by Floor de Goede.
Many of the better known guide-like books written about the Dutch are just a collection of superficial observations written by English-speaking expats who don't speak Dutch and think the entire expat community thinks like they do (colonialism, anyone?). These books were written 10-15 years ago, use Amsterdam as a metonym for the Netherlands, and are quite offensive at times, giving me the impression that the Dutch are an obstacle to living and working here because actually adapting and learning Dutch is unfortunately seen as a downgrade for many expats.
But Greg has come up with something that the Dutch and the rest of us can really laugh about probably because Greg has seen both sides, the immigrant having to take Dutch lessons with illiterate adults (not an insult, but a fact) and goes Dutch, bike, cheese and all like a boss. In my books he lives up to his nickname, the American Netherlander.
Here's an older video shot downtown Amsterdam with Greg sporting his best British accent: