Foiled toothpaste robbery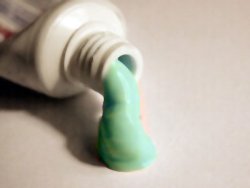 Last Wednesday two thieves in The Hague made off with trays of toothpaste from a supermarket. One of them, an illegal Portugese (?) of 22, was arrested, while his friend managed to run way faster. The total value of the booty was 500 euro, according to the police.
A female employee saw the men around 3pm empty a tray of toothpaste into a bag and walk out of the store. The woman warned her colleagues when one of the thieves came back in. The man that was arrested confessed.
1) Illegal Portuguese? Aren't we in the European Union??
2) Lame robbery – that's why some toothpaste is cheaper on the outdoor markets
3) Can I make white teeth jokes?
(Link: bisnis)
No Comments »
No comments yet.