New pole-sitting record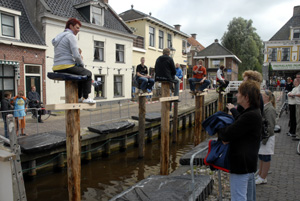 In Kollum, Friesland, Werner Leichtenberg, Sandra Ellens and Wieke Lap have set a new Frisian pole-sitting record. Last weekend, the three spent 60 hours straight (OK, they are allowed to go to the toilet) on a pole in the centre of their village, according to the pole-sitting organisation. The old record was established in Warns at 58 hours. As well, the three decided to get off their pole at the same time, so that they all could share the record together.
This originally Frisian sport has made a serious comeback. The rules are simple: the one who stays the longest wins. The poles are usually in water so that if someone falls asleep, they will not get hurt when they fall.
(Link: nu.nl)