"2000× dick" for Bruna's birthday
Dutch designer and artist Dick Bruna will turn 80 this week, and in his honour the main office of the public library of Rotterdam is hosting an exhibition of his book covers called 2000× dick. Admission is free, and the exhibition runs from August 16 till September 16.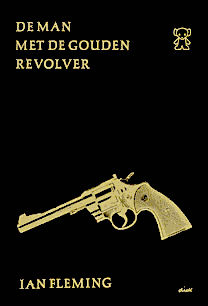 Illustration: cover of the Dutch translation of the James Bond story The Man with the Golden Gun, illustration and cover design by Dick Bruna.
Outside the Netherlands, Dick Bruna is probably best known for his series of books for very young children, revolving around young bunny rabbit Miffy, but within the country, his book covers for series such as Maigret, James Bond and The Saint are probably as famous. Bruna was born to a long line of publishers, and his father wanted him to follow in those footsteps. However, Bruna had other plans, and went for a career in design and illustration.
His father had started a line of book shops at railway stations, where the publisher sold its own range of Zwarte Beertjes (black bears) books. They were pocket novels that went over well with travellers who wanted something easy to read while in the train. Bruna translated a number of these books, and typeset and illustrated thousands of them. Being a great fan of the minimalist De Stijl, both his children's books and book covers are remarkable for their clean and simple look.
There are several anthologies of Bruna's book covers, both printed and electronic. On the web you can find pictures of book covers at Retrobook.com as tiny thumbnails, and at De Boekenplank as bigger scans, but unfortunately not sorted by cover designer (google the site for "omslag Dick Bruna" or "omslagillustratie Dick Bruna").
3 Comments »
Very interesting. I didn't know that. It's great reading your website about things in the Netherlands from a British (?) point of view.

Comment by Alice — September 4, 2007 @ 2:58 pm

Nope, from a Dutch one this time :)

Comment by Orangemaster — September 4, 2007 @ 3:11 pm

[…] episode of Fool's Gold (which I reported about earlier), and Wasco's interpretation of Dick Bruna's Zwarte Beertjes book covers (see […]

Pingback by 24 oranges » Zone 5300, 2007 autumn edition — November 9, 2007 @ 11:25 am