Bird friendly lighting at sea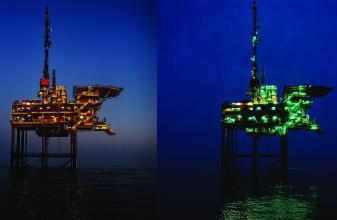 The Nederlandse Aardolie Maatschappij (NAM) and Philips have recently developed a new type of lighting for oil and gas platforms that is 'bird friendly'. The lights give off a limited part of the colour spectrum, which distract birds less when they fly over the North Sea, making their journey much safer. A platform of the NAM, just off the Dutch coast at the height of the island of Vlieland, is currently testing the new lighting. The primary results are apparently very positive, according to NAM and Philips.
Remember, this is a country that builds bridges for frogs and wildlife.
(Link: De Gelderlander)
4 Comments »