Amsterdam is as multiculti as it gets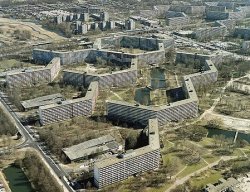 Amsterdam is again in 2007 the most multicultural city in the world, according to the City of Amsterdam. As of 1 January 2007, 177 different nationalities were living in the city, making Amsterdam No. 1 in this respect. Runner up is Antwerp with 164 nationalities, while New York has 150.
In 2006 a new nationality was added to Amsterdam, as someone from Malawi went to live there. Most foreigners come from Morocco (64,588), Turkey (37,421), Great Britain (10,244), Germany (6,670) and Suriname (5,609).
Despite the constant hordes of people, Amsterdam only has 743,104 inhabitants, who are mostly Dutch, as 532,548 only have the Dutch nationality. As well, another 123,204 have two passports, including a Dutch one.
And what's this picture? This is De Bijmermeer or 'Bijlmer', a suburb of Amsterdam, an architectural feat and the city's symbol for where to put all the poor and usually non-white foreigners. I've lived there as a foreigner, so I know first hand, although I did see some poor, white, retired Dutch folk. It was also world news for the plane that crashed into one of the buildings. If you don't know this story, grab a beverage and read it, it's really something.
(Link: trouw)
5 Comments »