First 'non-American' to win science award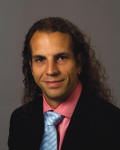 Erwin Kessels from Tilburg, Brabant, researcher at the Technische Universiteit in Eindhoven (TU/e) is the first non-American to win the American Peter Mark Award of the AVS Science & Technology Society. The 34-year-old Kessels currently holds a tenured Assistant Professorship in the Department of Applied Physics and researches solar cells.
The Peter Mark Memorial Award was established in 1979 in memory of Dr. Peter Mark who served as Editor of the Journal of Vacuum Science and Technology from 1975 to 1979. The award is presented to a young scientist or engineer (35 years of age or under) for outstanding theoretical or experimental work, at least some of which must have been published in JVST. The award consists of a cash award, a certificate, and an honorary lectureship at a regular session of the International Symposium.
The award amounts to US$ 6,500 (EUR 4,712). Kessels will speak at the international AVS symposium, which will be held from 15 to 19 October in Seattle.
(Link: omproep brabant)