Posing naked for the church calendar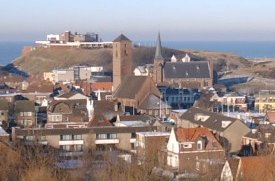 Let's help save our church and raise money posing naked! Sounds just like the plotline for Calendar Girls. And it is. Thirty women posed naked to raise money for the restoration of their church in the coastal village of Wijk aan Zee, North Holland. The youngest participant is 40 and the oldest is 78.
The bricks of the 500-year old church are slowly eroding due to sand, sea and wind because the bricks are of poor quality. The naughty calendar shoud raise some money to pay for the restauration. However, the church 25,000 euro. The women were photographed in and around the church, naked and with angel wings. And it's all Photoshop-free.
The calendars will be sold during the Christmas market for 12,50 euro a pop. Only 250 were printed. If my math is correct, this means a mere 3,125 euro if they sell out. I gave up on dividing 30 by 12.