"Dead bus shelter" promotes funeral museum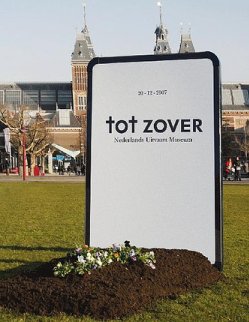 A "dead bus shelter" has been buried on Amsterdam's Museumplein (Museum square) to draw attention to the new Dutch Funeral Museum, which "due to circumstances" opens today. Although there's frost on the ground today, the advertising people had time to bury something yesterday without damaging the grass permanently (the main reason why events aren't held there any more).
The sign reads "for now".
(Link and photo: reclamewereld.blog.nl)
2 Comments »
Nice of you to "use" this (crazy) item and thanks for quoting us.

I was expecting it to have something that doubled as a "fietsrek". ;-)

Comment by anon — December 20, 2007 @ 5:02 pm