Push-up bras hinder probation work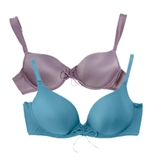 Push-up bras are currently at the centre of a huge conflict for probation employees in the Den Bosch region and the Penitentiaire Inrichting (PI)(prison) in Grave, Noord-Brabant. Nobody can come into the prison as long as the detection ports peep. Metal objects that cause the peeping have to be removed. You all see where this is going – push-up bras make the detection ports go 'peep peep', which stops female probation employees from doing their work by going into the prison to prepare reports. They also refuse to take off their bras or change bras just to be able to do their work. Security refuses to let them in and so the women are pretty pissed off and aren't getting work that needs to be done in the short term to the detriment of prisoners. The ports are not an issue anywhere else in the Netherlands. The worst case scenario is to send only men. Why isn't anyone talking about getting them fixed? Seems pretty obvious what has to be done.
(Link: waarmaarraar.nl)
No Comments »
No comments yet.