Murder on the border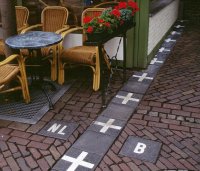 Photo copyright 2001, Jérôme. Distributed under the GNU Free Documentation License, Version 1.2.
Imagine two detectives working on a murder case, each having to solve the same crime independently, with each only having access to half the clues: it sounds like a great recipe for a mystery novel. Unfortunately, the murder in the Noord-Brabant town of Baarle-Nassau last week was anything but fictional. Early last week a 26-year-old Belarusian woman was found dead in a former bank building straddling the border. Police detectives from the two countries each had to look for clues in their own half; they feared that if they literally overstepped their boundaries, any case they might have against a suspect could later be thrown out on a technicality.
Nevertheless, the Dutch Departement of Justice said last Friday that the cooperation with its Southern neighbours had been excellent, forgetting for a moment that the Belgians had let the main suspect escape, the victim's 26-year-old husband. The Dutch DoJ then issued an international arrest warrant against the Dutch man who is still on the run with the couple's four-year-old daughter. The case is now fully in Dutch hands because the body was found in the Dutch half of the building, and the main suspect is Dutch.
Although there are many more buildings in the world built across borders, the Baarle-Nassau case is special because half of the town, called Baarle-Hertog, is a Belgian enclave within the Netherlands. Wikipedia says that the municipality of Baarle consist of 22 Belgian exclaves in the Netherlands, and 5 Dutch ones in Belgium.
Via BN/De Stem (Dutch) and Brabants Dagblad (Dutch).