Yuppies kill horses rather than send them to the butcher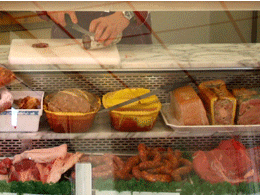 Singer Henk Westbroek praised the sausages of Wim van Beek in his column in De Pers yesterday. Van Beek was one of the last horse butchers of the Netherlands, and died last year. After a hiatus of three months, his son ewopened the business, and the man who is one of the founders of the 1980s Nederpop movement thinks the son's sausages are as good as those of the father.
But there is a problem. According to Westbroek, the butcher only has a limited supply of horses. He only buys horses that are two year olds or younger, which usually are hobby horses with which the owner got bored. Nowadays, owners think it is "sad" that horses are killed for their meat, so they have the horses put to sleep (and presumably have the horses buried). And so the famous sausages of Van Beek in Utrecht are never on sale for long.
Update 12-3: the text of the column is now available in Dutch on Westbroek's site.
3 Comments »
It's sad to kill horses, but it's pathetic to lack any sense of responsibility when taking on a pet. Disgusting. And horse meat is delish AND healthier than beef.

Comment by Orangemaster — March 6, 2008 @ 2:40 pm

[…] politician, radio presenter, bar owner and horse meat aficionado Henk Westbroek helped Achterhoek hard-rockers Noord Geldersch Metaal parody his own song […]

Pingback by 24 oranges » Satan Claus — December 5, 2009 @ 3:01 pm

[…] horsemeat instead of beef for his famous steaks for 60 years—even in the Netherlands there is a bit of a stigma attached to eating horsemeat. "Why did you lie," the reporters asked and that irked me. […]

Pingback by 24 oranges » Nickname 'mosquito' for journalists more popular than 'rat' — February 16, 2013 @ 10:23 am