No need to refresh car's oil says former oil mogul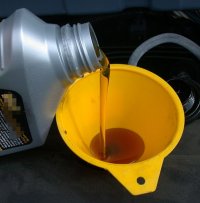 "Refreshing your car's oil regularly is nonsense, a myth that's been spread by the oil and car industries for years now," says Henk de Groot. And he should know, as he is a former CEO of Castrol Nederland. Apparently all you need to do is regularly top up the oil in your car, and check it with a special dipstick that won't just tell you the level, but also the quality of the oil, and you should be good for hundreds of thousands of miles. Luckily for all of us, Henk de Groot just happens to have invented this magical dipstick.
De Telegraaf (Dutch) helpfully calculates that the costs of excessively refreshing your motor oil are 600 million euro per year to Dutch drivers alone, not to mention the environmental costs. "I am doing this for my grandchildren," De Groot explains.
"But the industry's tentacles reach far. That is why they silenced me, the interests are too big." Nary a word about the faked moonlandings though.
I welcome links to this magic dipstick in the comments.
Via De Telegravin (Dutch). Photo by Dvortygirl, licensed under the Creative Commons Attribution ShareAlike license version 3.0.
2 Comments »
Happy to read this. But what do you do when the oil turns black?

Also: My two half-brothers were DeGroots, and I am trying to get more information on the family tree. Their roots were Dutch.

Their ancestors arrived in New York (don't know when), and then to Massachusetts, USA.

Ralph DeGroot, my half brother passed away three years ago on my birthday.

Any information you can send on the DeGroot family/families, would be of great interest to me in my search.

Thank you, Mr. DeGroot
Carol Bradford

Comment by Carol Bradford — April 7, 2008 @ 11:08 am

Ah, their website is at http://www.niveauplus.nl. Contact info available there.

Comment by Branko Collin — April 7, 2008 @ 1:14 pm