Buran passes through the Netherlands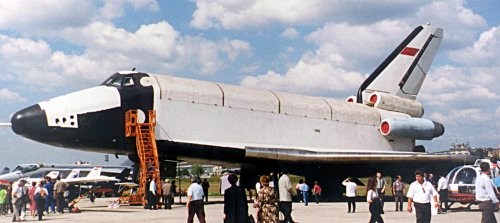 Illustration: the Buran space shuttle on display at the MAKS air show, 1997. Public domain photo by Kobel.
One of the 10 Soviet space shuttles ever built traveled through the Netherlands last weekend on its way to its final destination in Germany. The shuttle, an atmospheric test model code-named OK-GLI or BTS-02, was shipped from Bahrain to Rotterdam, and from there was moved by river barge over the Rhine to the Technik Museum Speyer in Mannheim, German.
The story of the Soviet space shuttle is one of the most interesting of our time. The Soviets saw the Americans build a space shuttle, but could not figure out what it was for. So they built their own, and found out what NASA was desperately trying to hide: that in terms of effectiveness and launch costs, the shuttle is an inferior solution to current non-reusable launch technology (nowadays NASA shuttles costs USD 1 billion per launch). Astronautix even concludes: "The cost of Buran—14.5 billion rubles, a significant part of the effort to maintain strategic and technical parity with the United States—contributed to the collapse of the Soviet system and the demise of the spacecraft."
The OK-GLI model was never intended to be launch tested. Instead, it was fitted with jet engines so that it could take off and land on its own, and was used to test atmospheric handling of the Buran shuttles. Later it was used as a demonstration model at airshows. It was bought by an Australian company which wanted to use it for the same purpose, but while the OK-GLI was in transit in Bahrain, its owner went bankrupt and the shuttle was stored for four years in parts at a junkyard.
The re-built shuttle drew crowds on its tour through the country, according to Blik op Nieuws (Dutch). Yesterday it passed Nijmegen, its tail clipped to fit under a bridge filled with onlookers.
1 Comment »
It can't be a coincident that "OK-GLI" sounds like a Russian trying to pronounce "ugly"… :P

Comment by Eric — April 8, 2008 @ 12:54 pm