Maaike's diary in English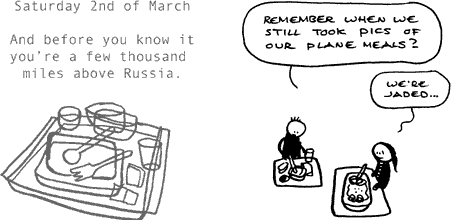 Maaike Hartjes, who was already the grand old lady of Dutch comics when she was yea high, has started an English language blog in which she documents her next book.
The work title is 'Enjoy Your Life and Your Socks', something I saw written on a shop in Japan. I'm going to try to add a new page every day.
I first met Maaike when I was co-publisher of the Iris fanzine in my student days. I believe it was at the Haarlem comics con which takes place every two years, where she showed up with her "folder." She had wanted to publish her work with another fanzine but they never showed up … and she went on to become a figurehead for our magazine until we quit in the mid-nineties. Maaike is an incredibly versatile artist—though she hates to show this versatility in her comics, focusing instead on what fellow cartoonist and fanzine editor Reinder Dijkhuis once called "her irresistibly funny minuscule drawings," with which she fills and publishes diaries.
No Comments »
No comments yet.