Hitchcock's The Birds without birds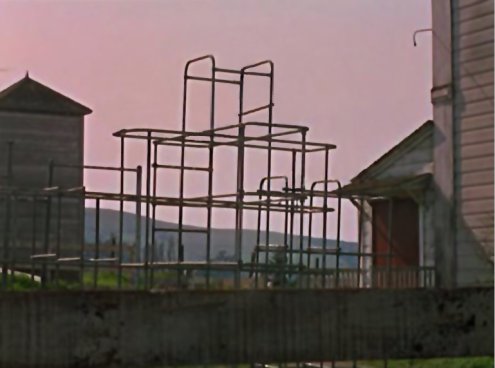 Video-artist Martijn Hendriks is removing the birds from scenes of Alfred Hitchcock's 1963 classic thriller The Birds for his current project Give Us Today Our Daily Terror, and presents the curious visitor with stills and a number of clips in the meantime. Very eerie in its own right.
Via Poste Restante (Dutch).
1 Comment »
The jungle gym was actually borrowed from a school in Occidental, at least, according to the occupants of the schoolhouse. It was returned after filming. I doubt its still there, though, most likely a victim of the mass-sanitization of school playgrounds across America starting in the 1990s.

The schoolhouse is a private home now, but the entry hall and the first left-hand room are a giftshop open on most weekends. Its cool!

Comment by Ryan Thompson — May 4, 2009 @ 9:24 am