Photos of "authentic" shopkeepers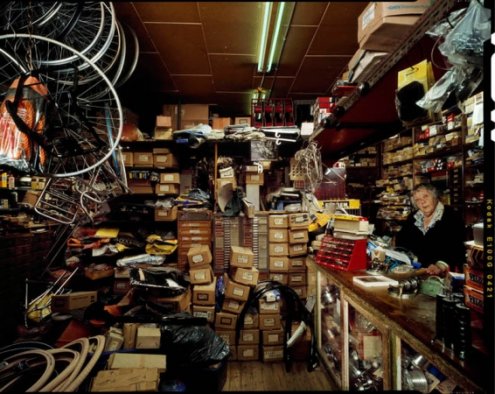 Like everywhere else in the world, the small shops are dissappearing from the Netherlands. Photographer Niels Helmink decided to document (Dutch) these "authentic" shopkeepers and their stores.
I remember when I was living in Nijmegen, about a decade ago, there was talk about giving up a whole neighbourhood to the wrecking ball. This sort of thing tends to alienate the citizens, so city hall sold its plans by promising that in this location Nijmegen would get an entire new shopping street (the Moenenstraat) that would house countless of cute little boutiques. Once the street was built (2004) the rents turned out to be way too high for mom-and-pop stores, and instead the citizens got the same old chains that fester the Dutch landscape everywhere: your Blokker, your Xenos, your H&M, et cetera.
More photos at Helmink's website and at his online portfolio. The photos are currently on display in Amsterdam at Gallery Bart. Photo depicts bicycle store Cito on the Ferdinand Bolstraat in the Pijp in Amsterdam, a neighbourhood that is quickly yuppifying and losing its little stores for that reason—although yuppie-friendly stores such as Taart van mijn Tante (a cakeshop) and 't Mannetje (bicycles) appear to be doing fine.
No Comments »
No comments yet.