New inkjet printer uses marbles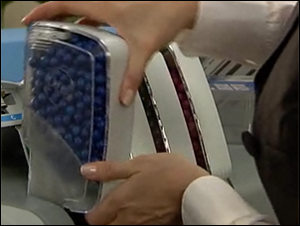 Dutch copier manufacturer Océ has introduced an industrial inkjet printer using CrystalPoint technology, which makes prints that do not smear when they are wet. The printer was nicknamed 'knikkerprinter' ('marble printer') by the local press because the ink is contained in tiny balls that are turned into a gel by the printer.
The technology has a 'solid in, solid out' principle. It uses small colour balls called 'Tonerpearls', which are contained in a transparent toner cartridge. The user can immediately see how much ink is left.
(Link: webwereld.nl)
No Comments »
No comments yet.