World Book Market success?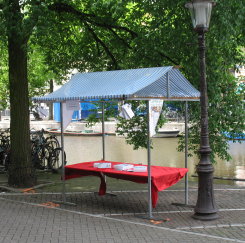 Amsterdam tried to hold the largest book market in the world yesterday with 1,000 stalls covering an area between the Nieuwmarket and the Stopera (city hall / opera). When I arrived there around 11 am, a number of stalls looked like this: empty, except for the occasional bit of advertising. The area around the windy yet sunny Nieuwmarkt, where I met a number of fellow Project Gutenberg volunteers I hadn't met before, was nicely populated though.
Heske Kannegieter, the organiser, told me on the phone she thought the market had been a success. According to her, 900 stalls had been rented out for the day.
1 Comment »
900 still beats the 878 of Deventer :-D

Comment by Eric — May 19, 2008 @ 9:53 pm