Christians get knickers in a twist over cereal advert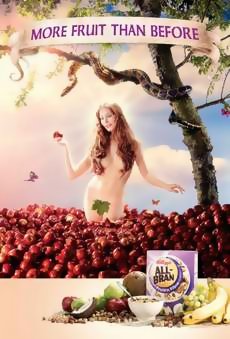 In Veenendaal, part of the Dutch bible belt, the local chapter of the SGP is "shocked," "insulted," and "hurt" over an ad for cereal which depicts a famous scene from the Old Testament, reports RTV Utrecht (Dutch). The Kellogg's advert that so outraged the conservative Protestant party displays a prudishly covered Eve amidst a sea of apples, watched by a snake, and under a banner which reads "Meer fruit dan vroeger" (more fruit than before).
The SGP, known mostly for its extreme misogynist stance for which it undoubtedly borrowed heavily from the Old Testament's Garden of Eden myth, has asked the city's executive to condemn the campaign to Kellogg's, which must be rubbing its corporate paws in glee for such a predictive gift of free advertising.
The manufacturer's campaign features a second ad which also depicts a scene from a fairy tale (Snow White, to be precise), but as far as I know no one has protested that one.
Via Geen Commentaar (Dutch).
1 Comment »
Neckermann had the same kind of advert a while back with a naked Adam and Eve and no one bitched… idiots

Comment by Orangemaster — May 29, 2008 @ 1:01 pm