Record gift voucher to be replaced by chip card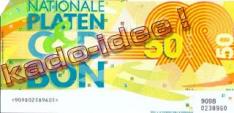 The Nationale Entertainmentbon, colloquially still known as the Nationale Platenbon (national record gift voucher), has been given its sentence. At the end of this year, the voucher that would have celebrated its 50th anniversary next year will be no more, Dutch Cowboys report (Dutch). On 1 September, the voucher will be replaced by a chip card that gives its buyer a couple more options. Choices. The buyer can decide the amount (up to 150 euro), and can use the card to shop on the internet.
The Dutch Cowboys also mention that the association for Dutch music stores has seen its membership dwindle from 1600 to 400 stores in the past few years.
No Comments »
No comments yet.