A white affair at future Amsterdam Central Station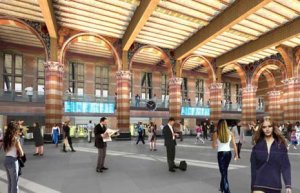 Maybe the small man or boy on the right is not white, but Arnoud de Jong of the Amsterdam Central Station website doubts it. Apparently, once the station will be renovated, it will be populated by white yuppies.
De Jong took a look at the municipal website and found that the 'artist impressions' did not provide a single identifiable person of foreign origin. No Muslims, no one even remotely religious looking or multicultural, while one in every three residents of Amsterdam fits the 'non-Western foreigner' bill. Maybe they'll be riding donkeys.
And then there's the women, as one woman pointed out in the comments. Young, thin and long-haired. The one in the foreground was probably taken from some catwalk. Not a single one of them is dressed for work, while the men are in suits. This has to have been the 'work' of a heterosexual white man.
If this is what Central Station plans to look like, I will continue to use the modest yet modern satellite station Sloterdijk where real people take the train.
(Link and Illustration: nieuwsuitamsterdam.nl)
No Comments »
No comments yet.