Artist censors her own explicit artwork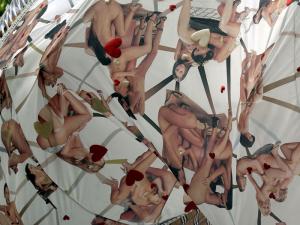 The 7-meter-high artwork "Miss Universe" by Dutch-born American Lara Schnitger exhibited in the Sonsbeek exhibition 'Grandeur' in Arnhem was adjusted after people complained about the 'pornographic character' of her work. The artist decided to cover up genitals on the work with little red hearts, which actually ruined the work for many people. Ironically, no one from the organisation had any problems with her work, but visitors did. Schnitger's intention was to make a work about love, but apparently the photographic quality of people making love is still pornographic to many.
The usual remarks range from 'too bad if people are shocked, it's art' to 'religious art has naked people too, should we put stickers on it'. Well, that last one is considered less explicit and realistic than photography nowadays. Roland Barthes comes to mind very quickly all of a sudden.
(Link and photo: gelderlander.nl)