Three-year-old already in tax system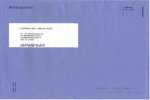 The Dutch tax office has a motto, which in English translates to "We can't make it more pleasant, but we can make it easier". And everytime they screw up – which has been a lot in 2008 so far – the media make fun of this 'the road to tax hell is paved with good intentions' slogan. Major computer problems have been their biggest worries, never mind that some staff are, well, incompetent.
The tax folks have sent a tax return to a three-year-old child, saying that they should provide them with their bank account number in order to get tax money back from 2004. The child was born in 2005, so you do the math.
This kind of mistake happens often. As a business, I recently waited for two separate returns of value added tax (small amounts, mind you) that I was owed. I got three letters telling me they all of a sudden could not find my bank details – which is rubbish, I assure you – and to fill in these three forms, all identical. The first return had two letters and the second one had one. I received the first return twice – they haven't figured that out yet – and the second one once.
Here's one (in Dutch) from March of a 6-year-old who was asked to cough up EUR 29,000.
(Link: waarmaarraar.nl)
No Comments »
No comments yet.