Run on vegetable oil now diesel prices are rising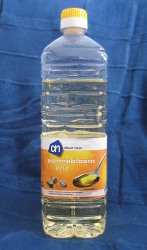 Daily AD reports (Dutch) that supermarkets are experiencing a run on vegetable oil, which car owners use instead of diesel as fuel. Super de Boer for instance noted an increase in sales between 50 and 100% in the past months. A spokes person explains that people are also hoarding vegetable oil simply because the prices are rising. Customers try and buy as much as 15 bottles in one go.
Z24 points out (Dutch) that the price of vegetable oil is rising too, so that the difference with that of diesel has decreased: vegetable oil is currently around 1.30 euro per liter, diesel around 1.46. Oil sold as fuel is taxed differently, which explains part of the price difference.
No Comments »
No comments yet.