Phone booth to disappear from streets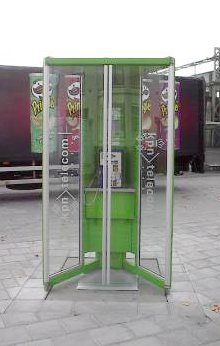 Having gotten permission from the government, KPN, the Dutch phone company, is going to reduce the number of its already less familiar green triangular phone booths, reports Blik op Nieuws (Dutch). Until now the government obliged the former state monopolist to provide one phone booth per 5,000 citizens in towns with more than 5,000 inhabitants.
Use of the KPN phone booths dropped about 76% between 2000 and 2006. A whopping 95% of the people have stopped using the booths altogether, preferring to use one of the 17 million mobile phones instead (out of a population of 16 million), according to the news site.
I remember phone booths being ubiquitous, square and something other than green (bright red or yellow, I forget—this was in the 1970s). To me it never seemed there were many of the newer models to begin with. KPN is apparently going to keep a couple of booths around, for instance where they believe the elderly still need them.
5 Comments »