KPN phone booth to disappear for good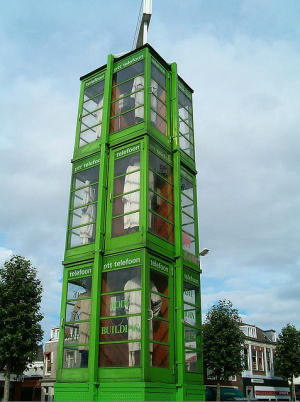 Back in 2008 ex phone company monopoly KPN was reducing the number of pay phones from the streets, only leaving some in places with a high concentration of elderly people. In fact, KPN was legally obliged to still have one pay phone per 5,000 inhabitants until 2008. Now it's time to get rid of them altogether because the mobile phone has made them obsolete. I can't imagine it's easier for the elderly to even find let alone use a pay phone with the cards and codes.
The picture here is a stack of phone booths in Haarlem across from the Carlton Square Hotel.
(Link: dutchnews, Photo of KPN phone booth art by Shirley de Jong, some rights reserved)
3 Comments »
By a weird co-incidence, within minutes of seeing your post, I also saw this:
http://wendyhome.com/2011/01/12/antique-communication-devices/

Comment by Dominic Cronin — January 12, 2011 @ 10:54 pm

@Dominic Cool!

Comment by Orangemaster — January 12, 2011 @ 11:01 pm