RFID tags used to monitor hikers' health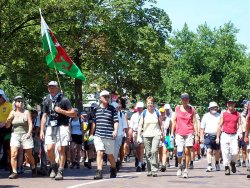 Researchers from the Radboud University in Nijmegen used RFID tags during the recent Four Day Marches to experiment with health monitoring. Volunteers were asked to swallow an RFID pill which sent the hiker's body temperature to a receiver in their back pack every 10 seconds. The receiver would then relay that information via Bluetooth to a GPS-enabled mobile phone which in turn would forward the data to the operations centre at the university's teaching hospital.
Using the data, the researchers could track the walkers on Google Maps, and even alert nearby walkers should a volunteer be in trouble. Radboud University was in the news earlier this year when researchers cracked and cloned London's Oyster travel card and the Dutch public transportation card, which both used NXP's Mifare RFID chip.
Via Engadget. Photo by Maurits Vink, published using a Creative Commons license.
No Comments »
No comments yet.