Hanny's Voorwerp new cosmic object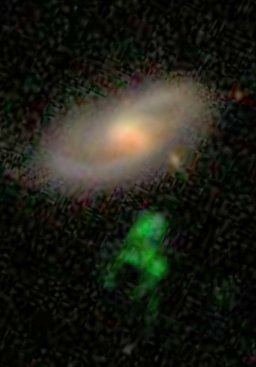 Amateur astronomer by night and primary school teacher by day Hanny van Arkel discovered this little green man-cloud in the sky, and promptly got it named after herself: Hanny's Voorwerp (voorwerp = "object"). When I say little, I mean huge.
Van Arkel, who hails from Heerlen in Limburg, made her discovery as part of a distributed computing project called Galaxy Zoo, in which volunteer participants are asked to classify images from the Sloan Digital Sky Survey according to a list of known celestial objects. The Voorwerp wasn't on that list.
A guess of what the object could be comes from astronomer Bill Keel. Quoting the Galaxy Zoo blog:
A hundred thousand years ago, a quasar blazed behind the stars which would have already looked recognizably like the constellation Leo Minor. Barely 700 million light-years away, it would have been the nearest bright quasar, shining (had anyone had a telescope to look) around 13th magnitude, several times brighter than the light of the surrounding galaxy. This galaxy, much later cataloged as IC 2497, is a massive spiral galaxy which was in the process of tidally shredding a dwarf galaxy rich in gas – gas which absorbed the intense ultraviolet and X-ray output of the quasar and in turn glowed as it cooled. But something happened to the quasar. Whether it turned off, dropped to a barely simmering level of activity as its massive black hole became starved for gas to feed its accretion, or it was quickly shrouded in gas and dust, we don't see it anymore.

But we see its echo.
Astronomers are apparently lining up to get a shufty at the Voorwerp through the Hubble Telescope, which is currently awaiting repair by a Space Shuttle crew.
Via Sargasso (Dutch). I re-coloured the original photo, because people pointed out that the blob is more likely to be green than blue. CP/IMH: "The chances of anything coming from Mars / Are a million to one, he said / The chances of anythiiiing coming from Mars / Are a million to one … and still, they come."
3 Comments »
[…] document.write("); Groen mannetje found near The Voorwerp09-08-2008 om 09:41 door Steeph Groen mannetje found near The Voorwerp Ruimtevaart, Waan v/d Dag Terug naar het […]

Pingback by Groen mannetje found near The Voorwerp - Sargasso — August 9, 2008 @ 8:41 am

It's a divine fart.

Comment by Darth Paul — August 12, 2008 @ 6:02 pm

[…] from my hope that the Dutch will again do some remarkable astronomical discoveries this year, like Hanny's Voorwerp or the giant exo-planet (Dutch). These icons link to social bookmarking sites where readers can […]

Pingback by 24 oranges » 2009 International Year of Astronomy — January 2, 2009 @ 2:13 pm