The man who disliked traffic signs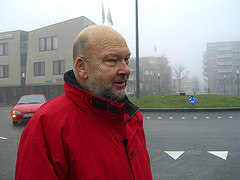 Earlier this year, at age 62, traffic engineer Hans Monderman died of cancer. The Wilson Quarterly profiles the man behind Shared Space, the counter-intuitive idea that dissolving the artificial segregation of pedestrians, cyclists and drivers can make traffic safer.
And Monderman certainly changed the landscape in the provincial city of Drachten, with the project that, in 2001, made his name. At the town center, in a crowded ­four-­way intersection called the Lawei­plein, Monderman removed not only the traffic lights but virtually every other traffic control. Instead of a space cluttered with poles, lights, "traffic islands," and restrictive arrows, Monderman installed a radical kind of roundabout (a "squareabout," in his words, because it really seemed more a town square than a traditional roundabout), marked only by a raised circle of grass in the middle, several fountains, and some very discreet indicators of the direction of traffic, which were required by ­law.

As I watched the intricate social ballet that occurred as cars and bikes slowed to enter the circle (pedestrians were meant to cross at crosswalks placed a bit before the intersection), Monderman performed a favorite trick. He walked, backward and with eyes closed, into the Laweiplein. The traffic made its way around him. No one honked, he wasn't struck. Instead of a binary, mechanistic process—stop, go—the movement of traffic and pedestrians in the circle felt human and ­organic.
What I assume to be Monderman's own Youtube videos are still up. In them, he explains what Shared Space is:
Via BoingBoing. Photo by Jerry Michalski, some rights reserved. (See also my adventures with traffic wardens, and this bit about letting people choose their own paths.)
3 Comments »
Nice Branko, reads well on my mobile as well :)

Comment by Natontheroad — August 23, 2008 @ 9:35 am

[…] Or so I have heard.The Groningen police seem to think that traffic signs belong on the street (not everyone in the North agrees with them) and started a campaign to get the signs back. The result: 300 traffic signs were returned by […]

Pingback by 24 oranges » Students give back 300 traffic signs — October 3, 2008 @ 8:04 am

[…] The man who disliked traffic signs, unnoticed in his home country (Dutch) […]

Pingback by 24 oranges » Branko's favourite 24 Oranges postings of 2008 — December 29, 2008 @ 11:47 am