First-ever Dutch woman Stratego champion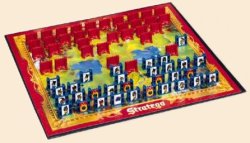 During the Stratego championship this week in Kiev, Roseline de Boer from Baarn, South Holland is the first woman ever to become world champion at the board game Stratego. It was also the first time a competition was organised for women. Roseline's brother Vincent de Boer who won the world title last year, also competed in Kiev. He ended up in third place.
According to Wikipedia, the modern version of Stratego was originally published in the Netherlands, which would explain why the Dutch have apparently always won the championship, the Dutch Stratego Association explains.
And maybe champions run in the family, too.
(Links: rtl.nl, strategobond.nl)
2 Comments »
[…] (source) […]

Pingback by The International Stratego Federation « Purple Pawn - Game News Across the Board — August 23, 2008 @ 9:17 pm

[…] then we also wrote about women's championship, also won by a Dutch woman in Kiev back in […]

Pingback by 24 oranges » Netherlands wins world champion Stratego — August 17, 2010 @ 1:30 pm