Warm welcome for Olympic athletes in 1928 stadium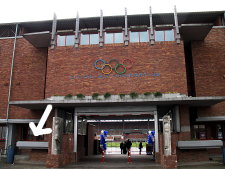 The Olympic athletes arrived home today, and they were given a warm welcome at the 1928 Olympic stadium in Amsterdam. I live right around the corner, and decided to take my crummy old digital camera there. As luck would have it, the organizers had decided that the athletes would enter through the front gate, where there is ample opportunity for non-accredited press (i.e. l'il ole me) to climb onto flowerbeds and the pedestals of pompous statues.
Below you see Anky van Grunsven (gold, dressage) being interviewed by famous sports presenter Tom Egberts. It was very hard to get a photo of her not grinning like a maniac, but here she had to be serious for a moment. She was one of the first there, and being a gold medal winner had to wait until the end to enter the stadium, and she was all smiles all the time.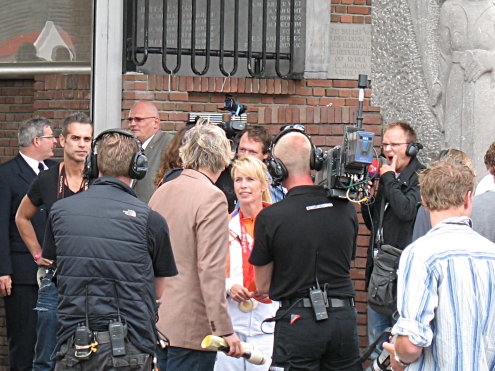 More below the fold…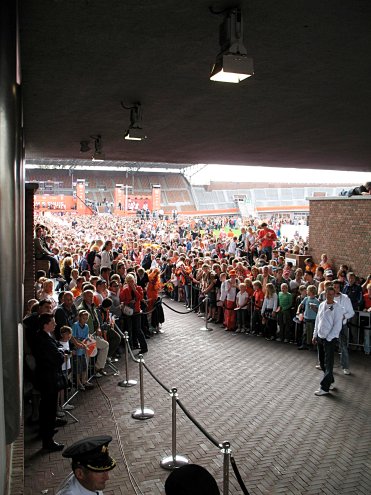 People waiting for the athletes.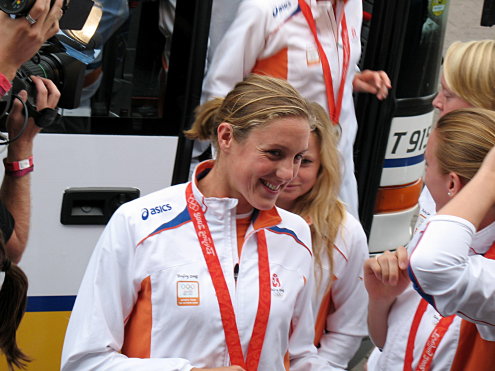 Marleen Veldhuis (gold, swimming).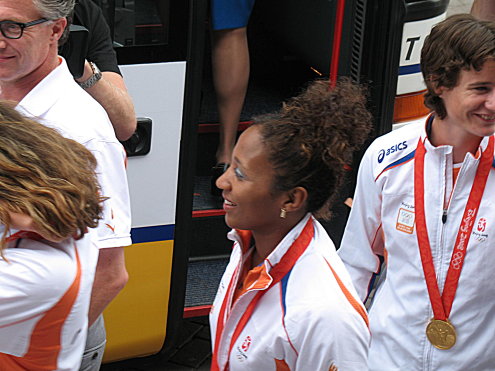 The difference between "real" journalists and bloggers? Journalists don't get involved. When I saw Marianne Vos (cycling, to the right), I immediately had to think back on how she fared in Beijing. Everybody had labeled her the favourite for the three races she was in, but she lost the first two of them. The reward for the efforts came in the third race, in which she took the gold. I had to think of this when she stepped off the bus, so I hollered and whooped when I took this picture, and as a result my aim was off and Deborah Gravenstijn (silver, judo) became the center of attention in this photo.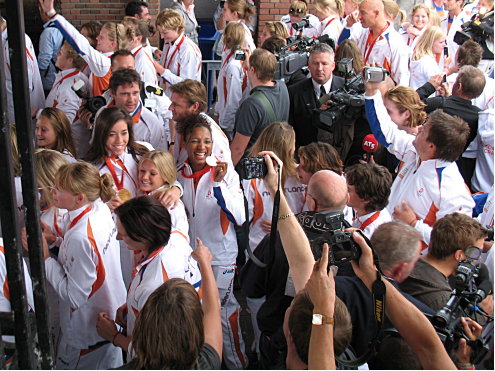 Grateful Olympians show their medals to a grateful press (Naomi van As, left, gold, hockey, and Deborah Gravenstijn, right).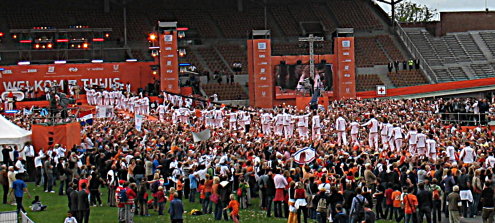 Inside the stadium the athletes joined each other again on the podium, where baseball player Tjerk Smeets asked "golden" hockey player Minke Smabers to marry him, according to Algemeen Dagblad (Dutch).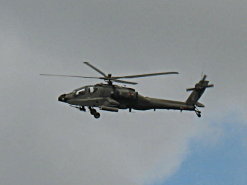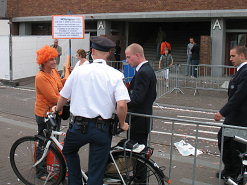 Both the state and its citizens wanted to show that politics and sports have indeed become completely inseparable. Two Apache gunships, murderous weapons mounted, were there for an honourary escort of the athletes. And this woman protester had been standing right next to me, but whereas I got to walk around, she was escorted off the lot by the hired security. Notice the second security guy on the right who had not been involved at all, but still wanted to be in on the power trip.
Update: added the photo from inside the stadium, and the bit about the marriage proposal.
7 Comments »