Dutch journalist's French music compilation gets sequel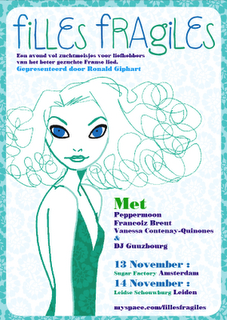 After finally convincing a Dutch record label to release his hand-picked French girls music compilation Filles Fragiles which did better than anybody expected, Dutch music journalist Guuz Hoogaerts aka Guuzbourg is currently working on volume 2 which will be out in October. To support the launch this time there will be shows in November at the Sugar Factory in Amsterdam and the Schouwburg in Leiden with top French acts Françoiz Breut, Vanessa Contenay-Quinones of Vanessa & the O's and Paris' Peppermoon. Peppermoon, featured on FF1, performed on the Dutch television programme 'De Wereld Draait Door' hosted by Matthijs van Nieuwkerk who was so impressed that he has now written the introduction to the liner notes of FF2. Hosting the evening will be famous Dutch writer Ronald Giphart who wrote the intro to the liner notes the first time around and whose neologism 'zuchtmeisje' (sighing female singer) made it into the Dutch dictionary.
Big orange disclaimer: I have been doing projects with Guuzbourg for close to four years now, we DJ together on occasion (shamless plug for our next appearance) and yeah, it's French and very original.
No Comments »
No comments yet.