Recently discovered Jewish interior will not be wrecked for now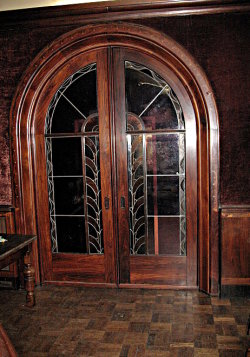 A uniquely preserved WWII Jewish living room in Amsterdam will stay intact a little bit longer. The room which we wrote about last week, was discovered last year by a student at that time Alexander Westra (currently of the University of Amsterdam). AT5 reports that Lebo, the company that now owns the house, has stopped the wrecking works of the property.
The house used to belong to banker Korijn who died in 1942, after which his entire family was deported to the concentration camps where they died at the hands of the Nazis. One source called the room "more authentic than the Anne Frank House." After the war, the house at the J.J. Viottastraat in Amsterdam came into the hands of Catholic theology students who barely touched the room, although Westra apparently did uncover some traces of parties.
In the next month and a half the owner will look at possibilities to preserve the room which is built in the Amsterdamse School style. One possibility is to turn the luxurious room into a museum.
According to a spokesperson for Het Schip, the museum for the Amsterdamse School, focus for this architectural movement usually lies on exteriors. To answer a question asked earlier by one our readers, Jay Vos, the spokesperson did not know of any books that focussed solely on Amsterdamse School interiors, although the museum is currently working on a book that will also document these interiors.
The students who lived there recorded a corny video invitation to their new year's bash in the living room last year, which 24 Oranges discovered at that wonder-wasteland of archeology, YouTube.
Photo: Alexander Westra, republished with permission. Westra sent us several photos, a selection of which we showed in our earlier article.
2 Comments »
Branko, thanks for the update on this continuing and fascinating story! – Jay

[…] WWII interior discovered (follow-up), you saw the photos here […]

Pingback by 24 oranges » Branko's favourite 24 Oranges postings of 2008 — December 29, 2008 @ 11:44 am