Glamsterdam, yet another lifestyle magazine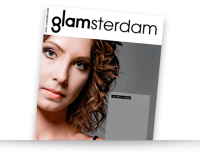 The Dutch version of TimeOut Amsterdam won't be the only new magazine to be launched in January 2009, as there'll also be Glamsterdam. Glamsterdam will be a bi-monthly glossy magazine for "Amsterdam and its residents". The content will be decided upon by locals together with an editorial staff. The goal is to portray the creativity of residents of Amsterdam ('Amsterdammers'). Every edition will feature articles and reports of events and parties, music and film, and all that jazz.
Contrary to TimeOut, Glamsterdam will be free and have a print run of 40,000 copies. There sure won't be a lack of anything to read in January 2009.
(Link: adformatie.nl)