New world fire-breathing record in Eindhoven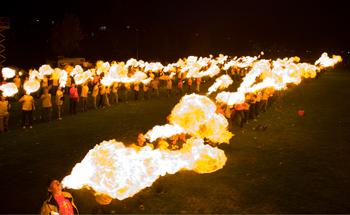 On Wednesday 15 October, students of the Eindhoven University of Technology set a new world record for simultaneous fire-breathing. The Eindhoven campus got 267 people breathing fire simultaneously. On 14 March 2007, a world record for fire-breathing was set in Tilburg, Brabant, with 115 people breathing fire simultaneously. All fire-breathers used Roman oil as fuel under the watchful eye of the local fire brigade. As well, every participant followed a fire-breathing course the week before.
Will Tilburg try again next year? Will Eindhoven hold on to their world record? Stay tuned.
(Link and photo: omroepbrabant.nl)