FEBO croquette more expensive than Fortis shares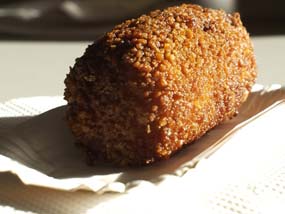 A croquette (in Dutch 'kroket')(more info here) at the Dutch fast food chain FEBO is currently more expensive than a share of Benelux bank Fortis, according to the Amsterdam Stock Exchange of today. At 13:30 CET the Fortis share was a steal at EUR 0,98.
A croquette at FEBO costs EUR 1,20. A 'vitaaltje' (vegetarian croquette) is just one euro during all of October.
The Fortis bank recently had to be bailed out by the Dutch government because of the international credit crisis. Since then its share price has been taking a beating, to put it mildly.
But hey, there's always junk food.
3 Comments »
But a kroket tastes a lot better, especially with a bit of mustard :-d

Comment by Eric — October 23, 2008 @ 9:54 pm

mmmmm…FEBO…horribly delicious…

Comment by Darth Paul — October 24, 2008 @ 8:35 pm

[…] written a lot of croquette stories on this blog, made from meat leftovers, questionable vegetarian variants and about general croquette […]

Pingback by 24 oranges » Goose meat croquettes made from airport geese — November 16, 2011 @ 12:48 pm